A Bowling Shirt Wedding Dress?
Two Goombas, One Happy Wedding
Well, at Beanteacher.com we thought we'd heard all the shirt stories that could be heard. Then Dawn dropped us this e-mail regarding her very special Wedding in December!

Here's what she had to say:

"November 10th the rose came out of the motorcycle jacket and my hubby proposed. We decided to fly out to Vegas and do the Elvis wedding in December. I spotted the Goomba Lanes shirt on your site and thought, "hmmmm, that would be great with Elvis". So we ordered a pair as our wedding attire.

When there was a glitch with the order Lisa really went above and beyond to make sure we had them in time for our trip. She didn't realize one them was going to be my "wedding dress". When we arrived at the chapel they greeted us with big smiles and loved the classic 50's looking shirt.

When they saw the backs of the shirts they knew they had some special people on hand. They loved them, and they actually added to the ambiance of the evening. Thanks Lisa for helping our Vegas wedding have a special flair. Today when we say "Goomba" it means a lot more than a bowling shirt."

Dawn Johnson
Norcross, Georgia


Oh my! Here's the happy couple at the wedding chapel in Las Vegas, wearing their Goomba Lanes Bowling Shirt from Beanteacher.com. And yes, Elvis has entered the building!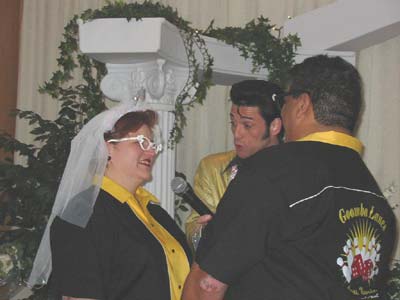 Another photo of the happy couple smooching it up for the camera.......ah, the lovebirds!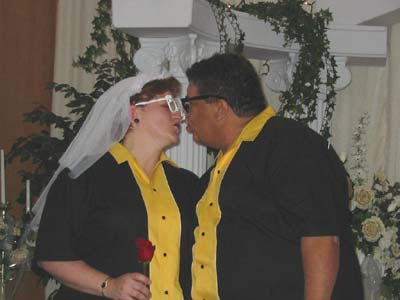 Awwwwww!!! This is one cool couple, aren't they? And don't they look great in those Bowling Shirts!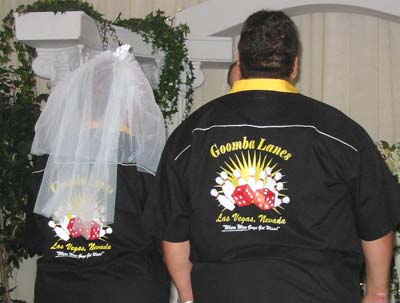 Thank you Dawn, for sending us these photos and for the very nice comments.

Our warmest wishes to you both. May all your Goombas be great ones!


Aloha!

Lisa & Neal
Beanteacher Hawaiian Style