What's New

July 2009
Can you believe that the years are just rolling by?
As we're enjoying the Summer, our beloved head Beanteacher has decided to launch another huge special for our fantastic customers!
FREE PRIORITY AIRMAIL SHIPPING for USA customers who spend $50 or more at our store, or FREE PRIORITY AIRMAIL INTERNATIONAL SHIPPING for International customers (including Canada) who spend $100 or more at our store! This special offer is good from July 2, 2009 through September 14, 2009. This is a limited time offer, so please HURRY and take advantage of this great deal right now - start shopping today!
Don't forget, our Hawaiian shirts and Bowling Shirts make for great casual and dressy wear, as well as fantastic conversation starters! Remember, we carry shirts in many theme styles:
- Tiki Shirts
- Hula Girl Shirts
- Surfboard and Surfing Shirts
- Music Shirts (Gibson Guitar and the Stones)
- Car, Woody and Hotrod Shirts
- Motorcycle Shirts
- Airplane Shirts
- Cocktail and Cigar Shirts
- Las Vegas and Gambling Shirts
- Pin-up and Glamour Girl Shirts
- Bird and Parrot Shirts
- Fish and Koi Shirts
- Western Shirts by Rockmount
- Dragonfly Shirts
............and so much more! Also, please don't forget to check out our Clearance Section for great deals on great shirts! We're making room for our new collections, and you get the direct benefit of our Clearance! But hurry, supplies are limited - at these new discounted prices, we don't expect them to last very long!

Until next time………ALOHA!!!!!!!!





July 2006
Aloha! Boy, time sure flies when you're having fun! We just realized that we've been selling our Hawaiian Shirts, Bowling Shirts, and Theme Shirts online for 5 years now!

We've also been busy building up our inventory of Beanteacher Hawaiian Style private label Hawaiian Shirt designs! Here's some of the shirts we're now offering:

A brand new Beanteacher Label Floral Border Hawaiian Shirt featuring a stunning floral border print design along the bottom edge.
To match the Floral print shirt, we're also offering a matching Beanteacher Label Women's Floral Border Hawaiian Dress, with the same attractive floral design!
Christmas in July? We thought we'd get a head start in creating our first ever Beanteacher Label Christmas Hawaiian Shirt. Believe it or not, this shirt is already selling briskly, so if you're interested in this Christmas Hawaiian Shirt, you'd better hurry!
A brand new vibrant Beanteacher Label Flower Lei Hawaiian Shirt featuring colorful intertwined flower leis. Striking and very memorable!
Summer is in full swing now, so you know what that means? Time to stock up on your Hawaiian Shirts!











May 2006
Aloha everyone! Well, Summer is around the corner and you know what that means? Time to stock up on your Hawaiian Shirts!

Wedding season is also close by, and by popular demand, this year we've stocked up on the VERY popular Paradise Found Hawaiian Wedding Shirts:
and Paradise Found Hawaiian Wedding Dresses with matching tropical prints: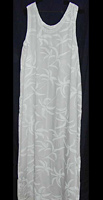 Not all Hawaiian Wedding wear is the same, so we looked high and low for a style and quality that we felt was most appropriate for your important Wedding Day. Our Hawaiian Wedding Shirt and Hawaiian Wedding Dress is well suited for Beach Weddings, Outdoor Weddings, Hawaiian-themed Weddings, and slightly more casual Wedding ceremonies. We think you'll really like these shirts and dresses………but order them QUICKLY! We sold out very quickly last time around!

We've also had tremendous success with our Beanteacher private label Hawaiian Shirts! Our Beanteacher Cigar Hawaiian Shirt is very low in inventory:

and our Beanteacher Guitar Shirt is completely sold out! In fact, they were so successful, we've developed a whole new batch of styles, just for you! The shirts are being made right now in Hawaii, and we'll be sure to share photos with you when they arrive!

In addition, keep your eyes peeled for some fantastic new Hawaiian Shirt styles, Bowling Shirt styles, and Western Shirt styles too! Some of the new styles are downright gorgeous - wait till you see some of the new embroidered shirts we'll be bringing your way! Wow!


August 2005
Aloha! Well, it sure is a nice hot Hawaiian Shirt Summer, isn't it? Here's hoping that you're enjoying your long Summer days, sipping a tasty cold beverage, and, of course, wearing a nice Hawaiian Shirt or Bowling Shirt from Beanteacher.com!

As promised, we've launched our own special line of Private Label Beanteacher Hawaiian Style Hawaiian Shirts! We've launched with 2 very special designs, the first one featuring Hawaiian style Cigar designs and tropical themes throughout, set in a rich dark background:

and our second Hawaiian Shirt featuring a Music theme with Electric Guitars set in a classic Hawaiian Print (Rock on!) :

Please be aware, these are Limited Production Shirts, and they are already selling strong - well beyond our expectations. They are the very first shirts we've ever offered under our own brand - will they be collector's items? Who knows? All we know is that when they're gone, they're gone! So hurry to our Beanteacher Private Label section and pick up a few today!
But that's not all. As we mentioned before, Beanteacher Hawaiian Style continues to expand its selection of core brands in our Hawaiian Shirt Store. We've added fantastic new Hawaiian Shirt brands, such as Paradise Found and Diamond Head, Kalakaua, Kahala, and Jams World! We'll be adding even more new styles, patterns, and colors over the coming months so be sure to check back often!
January 2005
Well, Happy New Year! Here's wishing you and yours a healthy, happy and prosperous 2005!!!
The Beanteacher Crew has just gotten back from a whirlwind buying and scouting trip in Hawaii, and boy, do we have some cool new shirts and brands for you!
In the coming weeks, you'll start seeing Hawaiian shirts from some new brands we'll be carrying soon, including Paradise Found and Kalakaua!!! How's that for exciting?
But we're just getting WARMED UP here............we're pleased to announce that in a couple of months, Beanteacher will be offering, for the first time EVER, Hawaiian Shirts created under our very own "Beanteacher Hawaiian Style" label! These are Genuine Hawaiian Shirts, made in Hawaii, with a uniquely tropical feel! Hey, we told you we had a busy trip, didn't we? Watch this space for news about our NEW BEANTEACHER line of Hawaiian Shirts!
In January, we also received a surprising and touching note in our Beanteacher e-mail from one of our customers, regarding one of our Bowling Shirts being used as a "Wedding Dress" in Las Vegas! Be sure to check out this story, along with full color photos! (Hint: The King is ALIVE!!!)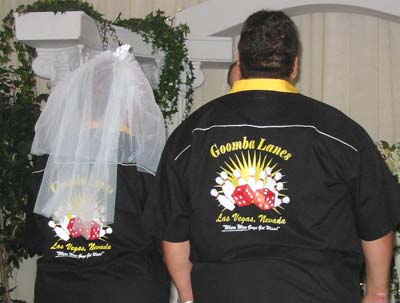 Also be sure to check out our testimonial section for a wild note about two Australian customers of Beanteacher Hawaiian Style bumping into each other in the Land Down Under, both of whom were wearing shirts from our store! Well, we told you we had fans across the globe, didn't we?

November 2004
Well, we now have PROOF POSITIVE that Santa Claus himself shops for his Christmas Hawaiian Shirts at Beanteacher.com! Actually, Santa himself sent us a really nice note, and a bunch of pictures of himself enjoying the Summer in Michigan, kicking back in his Hawaiian Christmas Shirt from Beanteacher.com! Now we know what Santa does in his off time!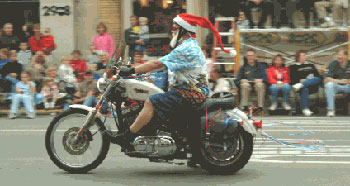 So be sure to see what all the fuss is about, and start your Beanteacher shopping now!
Amazingly, we survived the high Summer season, but wouldn't you know it? The holiday shopping season has descended upon us already! So, if you want to avoid the mall crowds and get that special someone a really unique present for Christmas, Hannukah, or Kwanzaa, be sure to visit our online store today for the best selections and sizes (remember, we do carry a wide range of plus sizes from 4XL up to 8XL!)
Remember, you can also purchase gift certificates at Beanteacher.com for your friends and loved ones as well!
And don't forget to sign up for our newsletter up at the top of the page near the Hawaiian Shirt Gecko - you may just get some insider news to exclusive Holiday offers and Coupons!
We hope you're having as much fun as we are!
Aloha!








June 2004
Hawaiian Shirt Season is in full swing, and we've made quite a few changes around here to better serve our Hawaiian Shirt and Bowling Shirt fans!
First off, we've completely redesigned our on-line store just for you. Now, you'll have an easier time finding the kinds of Hawaiian Shirts, Bowling Shirts, and Specialty Shirts you're looking for, by theme. So if you're looking for Car & Hotrod shirts, Surf & Surfboard Shirts, Tiki Shirts, Cocktail & Cigar Shirts, Vegas & Gambling Shirts, Hula Girl Shirts, Motorcycle Shirts, Airplane Shirts and much more, you're just a click or two away from what you're looking for.
You'll also be able to purchase gift certificates for your friends and loved ones too (How about a gift certificate for Dad on Father's Day?).
We've also added a truckload of new shirt designs and styles that you've never seen before! As promised last time, we've started adding shirts that range in size up to 4XL through 8XL.
And to celebrate our re-designed online shop, we're giving our Newsletter subscribers a special subscriber's-only discount. How can you get this limited-time discount? See that Hawaiian Shirt Gecko up there in the upper right hand corner? Well just above him, there's a signup for our newsletter - and all subscribers will get the juicy details dispatched to them.......
Thanks again so very much for your hearty support through the years! We've been listening to your suggestions, and hope you like our store's new look and our expanding apparel choices! Aloha!









April 2004
Aloha! Hawaiian Shirt Season is gearing up and we are busy stocking up and re-stocking for just for you!

Beanteacher.com has been able to secure a new supply of our very popular Hot Rod Rumble Shirt. With a design by LA Rocka for BC Ethic, this shirt just oozes personality for the hotrod car fan!

We have a limited stock of this special car shirt with sizes including M, L, XL, and 2XL. So if you want one, you'd better hurry - they're going fast!
We've also been expanding our plus size and big size ranges. We already stock bowling shirt styles in sizes up to 6XL. But that's not all - coming soon, we'll be offering classic Hawaiian Shirt styles in sizes up to 8XL.

Stay tuned for our new plus sized Hawaiian attire! Sign up for our newsletter on the right side of the page above the Hawaiian Gecko, and we'll let you know when our new plus sizes come in. Who knows, you may even get an exclusive newsletter discount!! Aloha!
December 2003
Aloha and Happy Holidays! Another year has flown by, and we're still busy stocking our online store just for you! We've added some cool items that you're sure to be interested in, including a very hip Santa Claus Tropical Shirt.

Only in Hawaii, would Santa be riding in a surf-inspired Woody automobile, pulled by his trusty Dolphins! And you only thought the Reindeer had the hard job! You'd better hop on this one fast, as Santa won't be around long - he'll be vacationing in Maui sipping Mai Tais after the holiday season!
We've also got in stock a special supply of Bowling Shirts specifically targeted at our "big" fans (we do specialize in plus-sizes, after all!). This item STARTS at XL, then runs from 2XL, 3XL, 4XL, 5XL, all the way up to 6XL! Emblazoned with a "Bowl-A-Rama" design on back, the front features twin chest pockets as well!

We've enjoyed being your source for Tropical shirts and unique bowling attire for the past 2 1/2 years, and we look forward to many more years of serving our valued customers around the world.

Here's wishing you a very Happy Holiday season, and an even better New Year!
August 2003
Aloha!!! Boy, the Hawaiian shirts have been flying off the racks here at Beanteacher.com! Summer is our typical high season, and this summer is no exception. Hawaiian Shirt fever is as strong as ever!

We've got a snazzy new Testimonials Page just added that contains some very nice comments from our kind customers. And if you'd like to jump on in and add one of your own, well, feel free to contact us, okay? We'd love to hear from you!
By the way, if you have a corporate event, a bowling team, a family reunion, or need matching Hawaiian shirts, Bowling Shirts or Themed Shirts for your group members, please be sure to contact us. Beanteacher Hawaiian Style is able to work with you on Corporate and/or bulk orders, as you can clearly see from our Testimonials Page.
Dolphin Duke has got his Hawaiian Shirt pressed and cool sunglasses ready for fans and autograph-seekers. Why? Well our Beanteacher Hawaiian Style website got some very nice press recently in a story about the growing Hawaiian Shirt trend in the Sun News of Myrtle Beach, South Carolina. What we didn't expect was that the syndicated article made its way to all sorts of local newspapers, including Santa Barbara California, Portland Oregon, Ventura California, and other parts unknown!
Be sure to watch our site in the coming weeks. We're about to add a whole slew of new Hawaiian Aloha Shirt and Bowling Wear styles in the coming weeks and months.
Until then, be sure to stay hip and stay cool in a Beanteacher Hawaiian Style shirt! Aloha!
May 2003
Aloha!!! Whew!! The shirts have been coming in like crazy, and we've been really busy stocking our store with the latest and greatest Hawaiian shirts, bowling shirts, and new novelty shirts just for you! If you haven't done so already, be sure to go to the Beanteacher Hawaiian Style Home Page to sign up for our mailing list, where you can get advance information on new styles as well as discount coupons on our cool attire!

Please be sure to check out our new Avanti line. These brand new Aloha Shirts, made of 100% silk, are beautifully embroidered with classic tropical scenes from Hawaii. These classic Avanti shirts are true vintage styles, with retro theme designs harking back to the period from the 1930's through 1950's. The embroidered patterns are sure to sweep you back to "old Hawaii", sipping Mai Tais on the shores of beautiful Waikiki Beach!

Beanteacher Hawaiian Style is proud to offer a wide range of shirts from the Go Barefoot brand. Go Barefoot has been producing high quality classic Hawaiian shirts for over 44 years. We carry a full range of Go Barefoot Styles, including Classic Car Hawaiian Shirts, Motorcycle Hawaiin Shirts, Aloha Friday Hawaiian Shirts, and the classic Primo Beer Hawaiian Shirts!

Next, we've added a line of Western shirts from Rockmount, one of the original makers of quality Western shirts since 1946!! We even offer a classic Hawaiian shirt from Rockmount, featuring cowboys, beaches, and oceans - a perfect gift for that Hawaiian Cowboy ("paniolo") in your life. Cowboys in Hawaii? Are you kidding? Absolutely not - in fact, did you know that the largest ranch in the United States is located on the Big Island of Hawaii?

We've also got some ultra cool Specialty Themed Shirts in stock as well. If you like cars, you've gotta check out our intense Hot Rod Rumble Shirt, by LA Rocka London for BC Ethic, featuring flames, hot rods and mega loud racing colors. Also, If you're a motorcycle or Jet Ski fan, you're sure to love two of our shirts featuring fast Kawasaki Ninja motorcycles and Kawasaki Jet Skis.

Finally, If you like Gibson Guitars or know someone who does, well we've got two shirts that you're sure to love, one featuring a single Gibson electric guitar on the front (pictured at right), and the other one featuring a JAM-PACKED selection of Gibsons all over the shirt! A great shirt for concerts, band members, or anyone who likes music! Stay tuned, we've got a whole lot more coming!
Be sure to come back often so you don't miss any of our merchandise news!

February 2003
Well, happy belated 2003! We spent the latter part of December and a chunk of January in Hawaii, on a busy buying trip for the web store! The weather was fantastic, and the Hawaiian shirt selection even BETTER!
We've loaded up on a ton of new Hawaiian print styles, so keep your eyes peeled over the next few weeks as we start adding our latest fashions to the website. If you want a news flash when they get posted (and perhaps a little insider "discount coupon" information), be sure to go back to our Beanteacher home page, and sign up for our e-mail mailing List! Members of our list get advance information on our latest Bowling shirt and Hawaiian shirt styles, not to mention insider tidbits and member's only sales, so please sign up today!
Attention Bowling Shirt Fans! You're going to love this as well - February marks the return of a customer favorite, the Tropical Tiki-Tiki bowling shirt! Our high-quality Bowling shirt features a Hula Girl, with a moving skirt! Yes, her hula skirt moves, ladies and gentlemen! Sizes range from Large to 3XL, but our supplies are limited, and she's sure to be a hot seller, so order your Tiki shirt now!
We've also added a stunning new Gutter Gals bowling shirt. These shirts have a real retro, 1940's feel to them, with nine bombshell pin-up quality gals emblazoned on the back! We have an array of big sizes, from Large to 3XL.
Check back frequently, as we'll be soon featuring a slew of hot new styles - Stay Tuned!
November 2002
Well, it's November, and the Christmas shopping season is just around the corner - Can you believe it? Well, we've got some new shirt styles just around the corner for you lucky Aloha shirt shoppers and Bowling Shirt Fans!
So, if you want to be the FIRST to hear about our breaking news, well, you'd better sign up for our mailing list, because our list members will be the first to receive all of the juicy news (not to mention fantastic coupons for discounts off our already great prices!). So get over to our Beanteacher homepage, and sign up now!!!
July 2002
Well, it sure has been a busy summer! We've gotten a lot of requests for shirts with exotic fish on them, and we're happy to say that we've just got a batch of beautiful, high quality Kamehameha brand Hawaiian shirts emblazoned with exotic Koi fish on them!
These magnificent shirts are Made in Hawaii, and are made with very lush and cool-feeling Rayon fabric. We have them in two colors, Rich Gray or Elegant White:
Grab them while you can - supplies are limited! Hint: These make a great gift for exotic fish afficionados or even recreational fishing enthusiasts!
And in case you're wondering what a Koi is, well click here!!
And for you bowling shirt enthusiasts, we've got some new surprises for you in the coming weeks.........be sure to sign up for our mailing list (on our home page) to be the first to find out what they are when we launch them here!

November 2001
The response to our site has been very gratifying! We're making new friends from all parts of the country and internationally as well! Aloha Shirt fans can be found all over the world!
We've just added our merchant account to the on-line store, so for those of you who want to purchase your Hawaiian Shirts, Bowling Shirts, and Tropical theme clothing with your credit card, please feel free to charge it!
We accept VISA, Mastercard, and American Express.
And know that you're shopping safely, because we use a secure server with encryption to handle your transactions!
And for you PayPal fans out there, you can also use PayPal for your purchases with BeanTeacher.com!
August 2001
What's New?
Well, we are, for one!
Our website and on-line store just opened for business in August of 2001!
However, stay tuned to this space for upcoming product announcements, including our newest Hawaiian Aloha shirt designs and styles!